"...taxi owners are challenging the legality of many of the regulations the City Council passed..."

Tuesday, July 31, 2012

By Bruce Eggler, Times Picayune

A federal judge Monday blocked New Orleans officials from implementing a package of new regulations for the city's 1,600 taxicabs until at least Friday, two days after the rules were scheduled to go into effect. U.S. District Judge Eldon Fallon extended a temporary restraining order issued July 20 by Orleans Civil District Judge Paulette Irons, before the case was transferred from state court to federal court.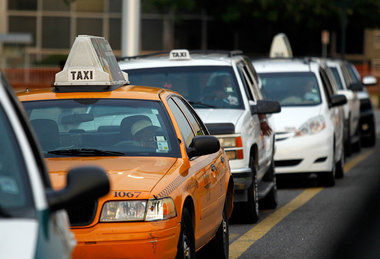 David Grunfeld, The Times-Picayune
Taxi owners are challenging the legality of many of the regulations the New Orleans City Council passed in April at the urging of Mayor Mitch Landrieu and leaders of the city's tourism industry.

Fallon said that because he did not receive the case until Monday and he has a jury trial going on, he was extending the restraining order until he can hold a hearing Friday. Fallon held a hearing on a related case last week but has not ruled on that matter.

In both cases, taxi owners are challenging the legality of many of the regulations the City Council passed in April at the urging of Mayor Mitch Landrieu and leaders of the city's tourism industry. Taxicab industry leaders said they were excluded from the discussions that produced the package of "reform" measures unveiled by Landrieu in March.

The new regulations include setting maximum ages for vehicles used as cabs and requiring owners to install credit card machines, GPS devices, "passenger information monitors" and security systems including cameras and silent alarms.

Another ordinance states that the city-issued permits to operate cabs, known as certificates of public necessity and convenience, or CPNCs, are privileges and not rights. That apparently would mean they cannot be inherited or sold from one owner to another, as has been common practice for decades, with the city's knowledge and tacit approval. Owners also have used the CPNCs as collateral when taking out loans.

Thousands of dollars per cab

Proponents of the new rules have said many local cabs are in poor condition and present a poor image of the city to visitors. Critics said some of the reforms go too far and will impose undue financial burdens on owners, forcing many to go out of business.

The regulations requiring new equipment and placing new restrictions on cabs' age will force many owners to spend tens of thousands of dollars per vehicle, without offering any way for them to find the money or giving them sufficient time to comply, the critics charge.

The Civil District Court suit challenging the rules was filed by attorney Ike Spears on behalf of Coleman Cab Co. owner Monroe Coleman and other drivers and cab companies.

It contends, among other things, that the new age limits on vehicles "serve no legitimate government purpose" and the city "has failed to show any rational basis" for them.

The law passed in April says that cabs can be no more than 11 years old. Starting in 2014, the maximum age would be reduced to seven years. In addition, starting in 2013, any new or replacement cabs can be no more than 5 years old.

Many cabs too old for rules

The Coleman lawsuit says that only 15 of the 60 cabs owned or operated by Coleman Cab Co. and only 25 of the 75 cabs operated by Veterans Cab Co. meet the new age requirements for vehicles.

The suit also challenges new rules that prohibit the use of salvaged or reconditioned vehicles and of vehicles previously used as police vehicles or taxis in other cities. It says the city "has failed to show any rational basis" for such prohibitions.

The suit says some of the new rules deprive owners of their property rights without due process or just compensation and that others are arbitrary and violate the guarantee of equal protection of the law.

For example, it says, preventing CPNCs from being sold or inherited would illegally deprive owners of their property interest in something that in many cases cost them $50,000 or more. It also says the new age limits do not apply to other city-regulated for-hire vehicles such as limousines, shuttle buses and hotel courtesy vans.

The suit says the GPS and security-camera rules would let the city conduct 24-hour monitoring and surveillance of cabs and drivers, even when the cabs are off duty and being used as private vehicles. "This constitutes an unreasonable and unconstitutional invasion of privacy," the suit says.

After Irons issued her restraining order, Ryan Berni, a spokesman for Mayor Mitch Landrieu, released a statement saying: "We are confident the law is on our side. For more than a generation, our taxicabs have not met the high standards our residents and visitors deserve. After working with taxicab industry stakeholders for nearly two years, the City Council passed our sweeping reform package, which is set to modernize the taxicab experience and improve taxicab passenger and driver safety in New Orleans by early 2013."

The Civil District Court suit filed by Coleman and others in many ways parallels a suit that a group of United Cabs Inc. owners filed in May in federal court challenging the legality of the new regulations. Fallon held a hearing last week on the city's motion to dismiss that suit, but he has not ruled on it.

The City Council's Transportation Committee was scheduled last week to discuss a possible fare increase for taxis to help pay for some of the expenses mandated by the new rules, but the discussion was canceled because the administration said it did not want to discuss the matter while the lawsuits are pending.