April 27, 2012

Bruce Alpert, Times -Picayune

WASHINGTON -- A Florida federal judge temporarily blocked the Labor Department from implementing rules the agency says would protect foreign guest workers and ensure Americans get first shot at the jobs, but opponents say would force unsustainable costs on businesses.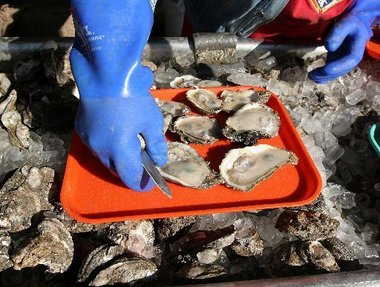 Daniel Erath / The Times-Picayune archive
Some seafood process companies had complained that the new labor regulations would raise their costs in hiring foreign guest workers to do jobs like shucking oysters.

The ruling, issued late Thursday, is another blow to the department, which has already had Congress temporarily block another foreign worker rule requiring employers to pay the temporary workers higher prevailing wages, partly to make the jobs more attractive to Americans.

The Labor Department also this week dropped a regulation, strongly opposed by farmers, which would have limited work done by family members under age 16. Instead, the agency said it would work to improve safety for those youthful workers.

In Florida, Judge Margaret Casey Rodgers temporarily blocked the Labor Department from implementing both its wage and working condition requirements for guest workers. The judge said her reading of federal law indicates the authority to regulate the programs rests solely with the Department of Homeland Security.

The Labor Department had argued that it was acting under its decades' old authority to determine whether employees qualify for visas.

"At least at this stage of the proceedings, the court is not persuaded by DOL's arguments," wrote Rodgers, who was appointed by President George W. Bush.

Rodgers said she will schedule a trial to consider whether to permanently block the rules, or allow the department to reissue them.

The rules, which took effect Monday, required employers to pay a guest workers' transportation costs to the job site and pay for the trip home, when the work ends. It also required employers to pay guest workers for at least three quarters of the contacted hours, even in instances when there's no work to be done.

It also mandated improved and longer efforts to try to fill jobs with American workers.

Judge Rodgers' ruling was good news for a group of Louisiana employers who rely on foreign workers under the H2 visa program. They included seafood processors, hotels, forestry companies, and farms.

Mike Voisin, CEO of Motivatit Seafood in Houma, said the rules would force some businesses to shutdown, others to cutback, because prices would increase and make them less competitive against foreign suppliers.

"We now have this judge and Congress making the right call, two arms of the government, and I wonder if the other one (the executive) is going to get it," Voisin said. "I hope so."

But Jacob Horwitz, lead organizer for the New Orleans-based National Guestworker Alliance, said the new rules are needed to protect workers who in "too many instances," arrive in the United States, at considerable cost to themselves and their families, but find the promised hours and pay don't materialize.

And unlike with American workers, these employees can't work anywhere else, and often don't have the money to return to their home countries, Horwitz said.

Horwitz filed a complaint Friday with the Department of Labor against Brunswick Seafood Inc, of Theriot on behalf of two former foreign guest workers who worked as oyster shuckers. The complaint says the company didn't reimburse the workers for their travel and charged them for tools -- in effect leaving compensation below federal minimum wages.

The complaint also says the workers were hospitalized one day "due to what they believe was carbon monoxide poisoning from a tractor left running in an enclosed space and when they told hospital officials what happened, they were fired."

Jeff Green, an owner of Brunswick Seafood, denied the allegations. He said the workers were told "there was no work for them" because of the closing of oyster beds, and instructed to return to their home countries.