"House moves to block federal rule protecting foreign guest workers and giving Americans first shot at jobs..."

Friday, July 20, 2012
By

Bruce Alpert, Times-Picayune

WASHINGTON - The House appears ready to follow the lead of the Senate and approve legislation that would temporarily block implementation of a new rule designed to protect foreign guest workers. A Labor/Department of Health and Human Services spending bill nearing final action by the House Appropriations Committee includes a rider blocking enforcement of a rule that would require businesses hiring foreign workers to pay transportation costs and visa fees.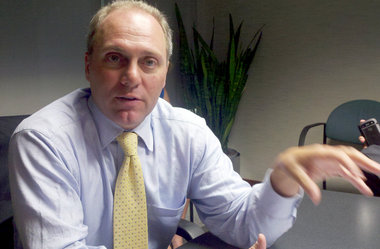 Jonathan Tilove, The Times-Picayune
Rep. Steve Scalise is backing measure to block a rule protecting foreign workers. He says the rule is too cumbersome for Louisiana businesses.

The rule would also guarantee payment of at least three/quarters of the workers scheduled hours.

It also would require companies to advertise for U.S. workers up to 21 days before the jobs begin before being able to bring in foreign employees under what is known as the H-2B visa program.

The prohibition would last a year.

Obama administration officials said the Labor Department rule is needed to ensure Americans get the first shot at available jobs, especially at a time of high unemployment, and to protect foreign workers, who are barred from taking other jobs and often lack resources to return to their home countries if work hours are substantially cut.

But business groups, including Louisiana seafood operators, said the rule would add significant costs to their operations, jeopardizing their viability. And their arguments drew support on Capitol Hill, including from Rep. Steve Scalise, R-Jefferson.

"I've talked to many small business owners throughout Southeast Louisiana who have said that these labor department wage mandates will force thousands more jobs overseas, and this is another clear example of President Obama's hostility towards hard-working Americans who build their own businesses," Scalise said.

Saket Soni, executive director of the New Orleans based National Guestworker Alliance, said members of Congress are putting "corporate greed ahead of struggling workers" and making it even more likely businesses will hire foreign workers instead of Americans.

"As the Senate did last month, the House (subcommittee) has voted to block the Department of Labor's new rules for the H-2B guest worker program--rules that would help end the exploitation of guest workers and the unfair exclusion of U.S. workers," Soni said. "Businesses that rely on exploitation to turn a profit are fighting desperately to block the rules, and (a House subcommittee) took their side."

The bill, which includes cuts in funding for President Barack Obama's Affordable Care Act and new restrictions on abortion, moved through a House Appropriations Subcommittee this week.

Earlier, Congress voted to delay higher wage requirements for the foreign workers - a measure the Labor Department said would have made the positions more attractive to U.S. workers. But officials with businesses that rely on foreign workers - including the seafood industry, hotels, farms and timber companies -- argued that the wage scales were too high