October 17, 2012

By Benjamin Alexander-Bloch, Nola.com

Secretary of Labor Hilda Solis will tour Nunez Community College in Chalmette on Wednesday afternoon and speak about a nearly $2.8 million grant that her department awarded Nunez to redesign its business administration programs. The funds will help the college create an emphasis on business, restaurant and tourism management, as well as general entrepreneurship.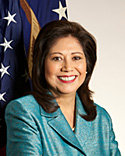 Secretary of Labor Hilda Solis

Earlier this month, the college received about a third of its $2,760,356 grant through the Department of Labor and Education's Trade Adjustment Assistance Community College to Career Training program. The grant is part of about $17.5 million that the U.S. Department of Labor announced last month to Louisiana community colleges, and $500 million given nationally to nearly 300 community colleges and universities throughout the nation for job training.

The grants are targeted to benefit the types of workers who are laid off due to trade adjustments. The initiative focuses on community colleges and other programs where training can be completed in two years or less and prepare students for higher wage and skill occupations.

Often the grants have focused on advanced manufacturing, transportation and health care, as well as science, technology, engineering and math occupations.

On Oct. 5, Solis announced the nation's September employment statistics, noting that the "labor market added 114,000 nonfarm payroll jobs in September, while the unemployment rate dropped to 7.8 percent, its lowest level since January 2009."

"The significant drop in the jobless rate was driven by people going back to work, not leaving the labor force," she said.

The overall jobless rate has fallen by 1.2 percent over the past year and Solis stated this month that "preliminary data from the Bureau of Labor Statistics show that we've now added nearly 5.2 million private sector jobs over 31 straight months of job growth."

She attributed the economy's growth, in part, to investments in job training. The statements came during a presidential campaign crunch wherein the economy is front and center.
JOHN McCUSKER, THE TIMES-PICAYUNE archiveNunez Community College reopening in 2006 after Hurricane Katrina.

In terms of the Nunez grant, the college is scheduled to have a small business development center and a restaurant, hotel and tourism lab up and running by the time students register for the new programs next fall. The small business development center will aid students in finding funding, create business plans, and will provide marketing and management classes.

In the turn, the lab will include a "hotel simulation model" with a hotel-like front desk, guest rooms and a computer check-in system. It also will feature a commercial demonstration kitchen and a functioning dining room.

Additionally, the grant will aid Nunez in setting up programs with four-year colleges so students' business administration, tourism and entrepreneurship credits can be transferred over to complete extended degrees. Internships at local businesses also will be provided for students.

In addition to the Nunez grant, about $14.7 million was given to a consortium of nine colleges in Louisiana, including Delgado Community College in New Orleans, to develop information technology programs.

Solis will tour the college about 1 p.m. and participate in discussions with Warner, business students, and local business owners.