The hospitality industry is one of the fastest growing segments of the global economy. In the United States alone, nearly 8 million individuals are employed in the travel and tourism industries. Leading hotel brands, destination management companies, and others are committed to training the right individuals to grow with their organizations. Careers in hotel management, sales and marketing, accounting, human resources, and guest services exist across the industry and offer great benefits and opportunities to grow personally and professionally.
Here in New Orleans more than 88,000 people are employed in the hospitality industry and that number is expected to rise as new properties open and tourism numbers continue to rise. Total tourism spending in the New Orleans Metro Area surpassed $8.7 billion in 2017 and overall visitor counts were up nearly 6 percent year-over-year. As the tourism industry continues to mature, this will spur the creation of additional employment opportunities.
The Greater New Orleans Hotel & Lodging Association works closely with The University of New Orleans and Delgado Community College and their respective programs to offer continuing education, seminars, and professional certifications to the next generation of New Orleans hospitality leaders. More information on the hospitality and tourism programs at each university are available by clicking on their respective logo below.
Our affiliated Hospitality Education Foundation offers scholarships to eligible students up to $8,000 towards higher education towards accredited hospitality programs at the University of New Orleans and Delgado Community College. This past summer the Foundation awarded our 2018 scholarships to local students Davis Solis and Taylor Van Ness (pictured below). Both Davis and Taylor will continue their studies this fall at The University of New Orleans.
Are you or someone you know interested in applying for a GNOHLA Hospitality Education Foundation scholarship?
Please review the following eligibility requirements and click below to access the 2022 GNOHLA HEF scholarship application.
1. Scholarship applicant must intend to enroll to study Hospitality at either Delgado Community College or The University of New Orleans.
2. Scholarship applicant must have an overall cumulative high school GPA of 2.5.
3. The applicant must be a junior or senior enrolled in a high school in the Orleans, Jefferson, Plaquemines, St. Bernard, St. Tammany, St. Charles, St. John the Baptist, Iberville, Tangipahoa, or St. James parish.
4. Students must demonstrate in their application answers a positive attitude, teamwork, and effective communication skills in either a paid or volunteer position, either in school, your community, or a job.
To hear inspirational stories from unique individuals who have successfully climbed the career ladder in New Orleans' hospitality industry, visit facesofhospitality.org.
Greater New Orleans Hotel & Lodging Association Board of Directors with 2018 scholarship recipients Taylor Van Ness (left) and Davis Solis (right)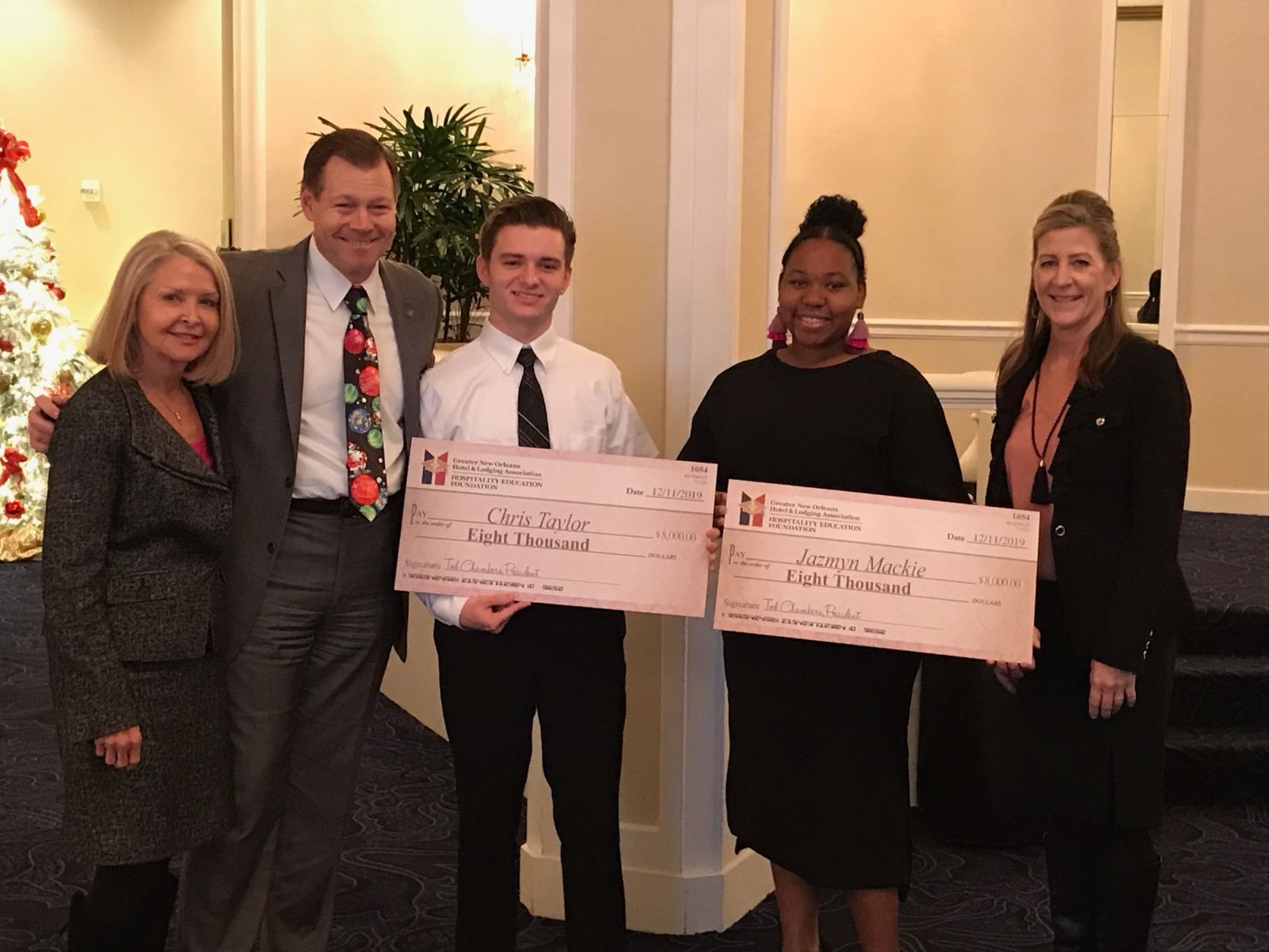 Greater New Orleans Hotel & Lodging Association Executive Director, Mavis Early, the Hospitality Education Foundation's President Tod Chambers, 2019 scholarship recipients Chris Taylor and Jazmyn Mackie, and the 2019 Association Board President Kristi Taglauer.